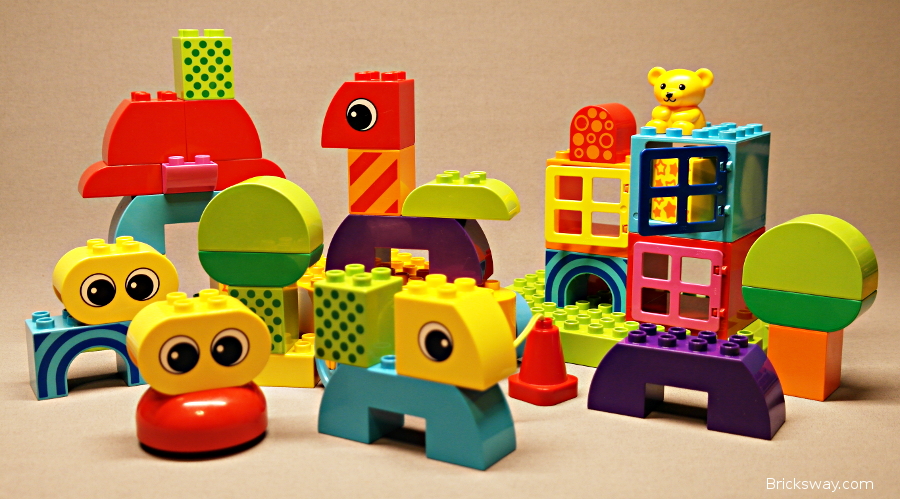 Med färgglada nyanser, nya former och tryck med roliga mönster visar Lego(TLG) att Duplo är att räkna med. Jag jämför då med barndomens Duplo från 70- och 80-talet. År 2013 släpptes denna symfoni i färg och form riktad till den yngre målgruppen inom Duplo som jag anser vara höjdpunkten inom kreativitet. Fantasifyllda former och fräscha färger inbjuder till fantasifulla byggen. Jag gillar särskilt att fönsterna mot kuberna matchar varandra med t.ex red mot dark pink och medium azur mot blue (BLs färgbenämning). Från vänster finns byggen från 10561: Toddler Starter Building Set, 10554: Toddler Build and Pull Along och 10553: Toddler Build and Play Cubes.
I samband med att den nya duplofiguren kom 2004 har också successivt nya färger introducerats i Duplovärlden. Princesstemat gjorde en rivstart 2005 med slott helt i färgen bright pink med detaljer i kontrasterande magenta, men annars förändrades inte mycket initialt. En "grabbig" motsvarighet i en borg 2008 blandar smakfullt jordfärgerna dark- och light bluish gray med dark tan. Fyra år senare kom sockersöta princesstemat tillbaka och då med Disneylicens. "Flick"färgerna var då uppgradera till bright-och dark pink med tornspiror i dark purple.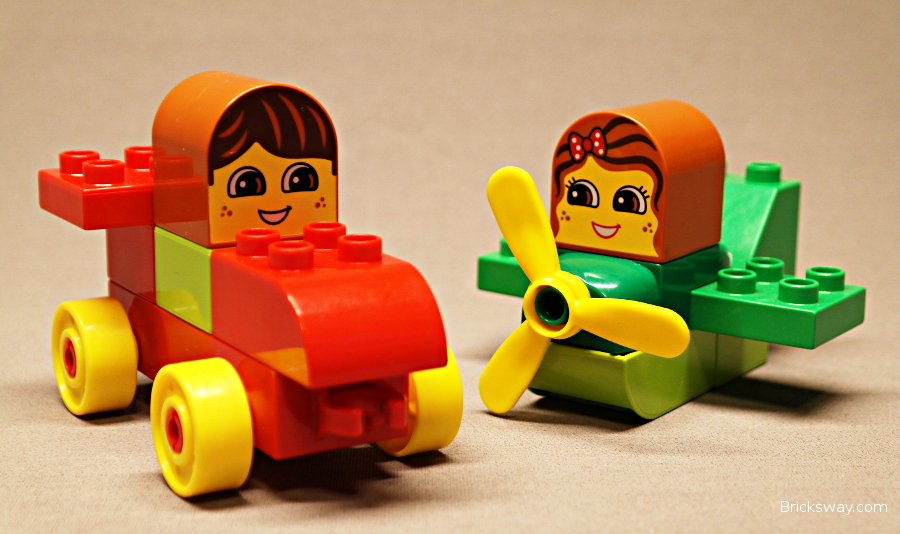 År 2012 kom sagoboken Let's Go Vroom med nr 6760 och 12 delar. Karaktärerna blev kortlivade i sig men är tryckta på varma färgen dark orange. Flygplanet kombinerar bright green, green och lime på bara fem bitar.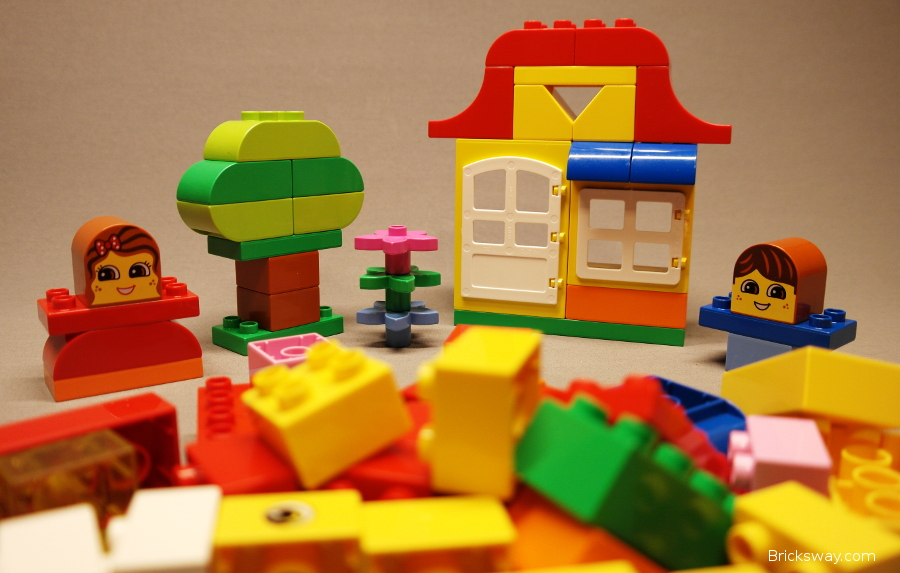 Setet Fun with Bricks nr 4627 med 85 bitar från 2012 är det näst största setet med dessa nougatfärgade karaktärer. Mest grundklossar i grundfärger var det i setet som kanske inte var det roligaste utan genombrottet skedde först året efter.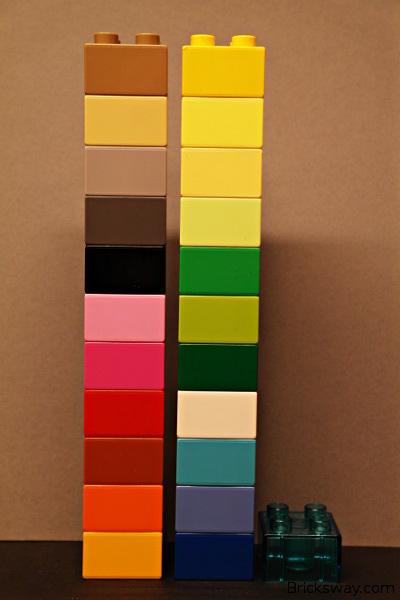 En snabb insamling av grundklossar på 2×2 från samlingen visade att jag hade hela 22 olika nyanser och en trans light blue i lager. Alla färger har inte släppts som grundkloss så därför blir samlingen inte helt komplett. Sammanfattningsvis anser jag att den största utvecklingen på färg/formsidan skett runt åren 2005-2015. Utvecklingen har som alltid två sidor, å ena sidan en stor variationsrikedom men samtidigt ett problem i att i lager ha tillräckligt med bitar i alla färger.
Text och foto: Per-Olof Rhodin
Upphovsrätten tillhör upphovsmannen.